Technical specifications
Characteristics
Reduces fuel consumption. Fits all types of motor vehicles (cars, trucks, boats, tractors, motorcycles, scooters, quads, trains, etc.)
Has proven itself on trucks, buses, cars, motorcycles, boats. Pollution controls with a BOSCH BEA 552 SPH analyzer have led to identical conclusions: a decrease in pollution emissions and a decrease in consumption
Benefits
Economic Ecological
Unalterable
Non-intrusive
Quick and easy to instal
l A one-time purchase
No consumabl
e Without maintenance, without maintenance
Résults
Less fuel consumption
Less pollution release (test performed with BOSCH BEA 552 SPH analyzer)
Improved driving comfort and flexibility
A cleaner engine that cleans more easily over time
Less vibration
A financial economy
A gesture for the planet
Installation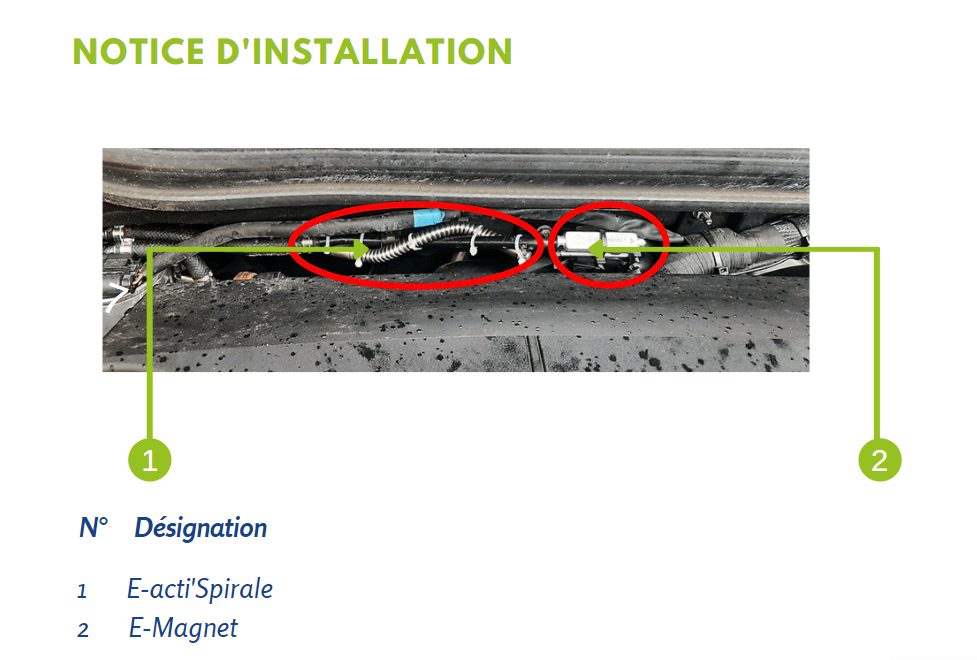 Installation instructions
1) Install the E-Clean'Carburant system on the fuel supply line (E-Magnet in the direction from the fuel tank to the engine) follow the direction of the arrow marked on E-Magnet
he E-magnet must be aligned vertically (one in front of the other)
2) Install the E-Acti'Spirale between the E-Magnet and the tank (E-Acti'Spirale has no orientation).
Attach the ends of the E-Acti'Spirale and E-Magnet for a better contact.
If necessary, add additional fasteners so that the E-Acti'Spirale is in contact throughout the length of the fuel line.